Guest Rooms

1 Ensuite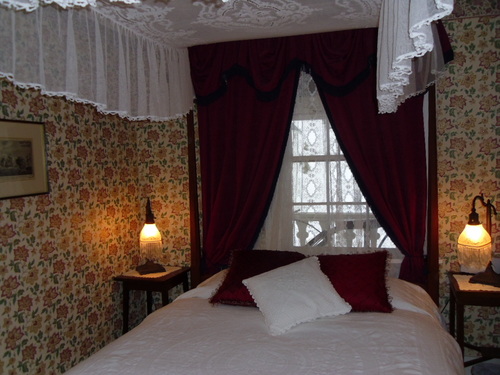 1 Ensuite

Queen... Elegant lace canopied 4-poster bed facing Main Street and common balcony.

$140/night includes Locally roasted Fair Trade Coffee/Tea and Continental Breakfast.

The St. George, sadly, does not have an elevator, even though they had already been invented. Two sets of seven steps must be scaled to arrive at the second floor rooms. Individuals with mobility concerns may take pause.

When the St. George was renovated in 1996 to once more serve as a place of accommodation for modern day gold panners, room sizes were reduced to allow the installation of restrooms. (Thank goodness for that!)

With a view to the comfort of a good night's sleep, space was sacrificed yet again in favour of Queen Size Beds. (Thanks goodness for that, too!) Segue to ... a significant lack of space for Very Large Luggage. For your own comfort, small overnight bags are suggested.

Bathroom Amenities: Complimentary Toiletries Including Shampoo, Heat Timer, Towels Provided, Walk-In Shower





2 Shared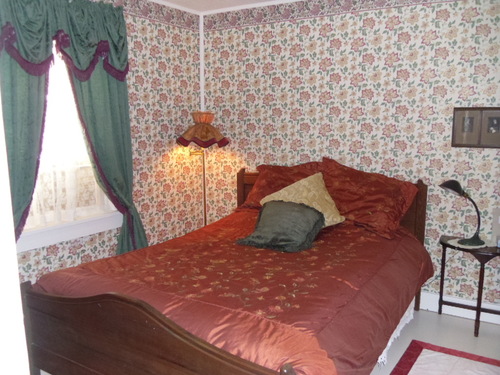 2 Shared

Queen... Comfortable Room overlooking the communal balcony and Main Street.
Perfect for Couples on a Budget as this room shares a Common Bath with one other room only. $125/night includes Locally roasted Fair Trade Coffee/Tea and Continental Breakfast for two.

When booked in combination with either rooms Three, Five or Six one of the Common Baths is exclusively allocated to your party only. Enjoy the privacy and savings when travelling with Friends or Family!
Call us at 1-250-994-2345 for details.

Please note*
The St. George, sadly, does not have an elevator, even though they had already been invented. Two sets of seven steps must be scaled to arrive at the second floor rooms. Individuals with mobility concerns may take pause.

When the St. George was renovated in 1996 to once more serve as a place of accommodation for modern day gold panners, room sizes were reduced to allow the installation of restrooms. (Thank goodness for that!)

With a view to the comfort of a good night's sleep, space was sacrificed yet again in favour of Queen Size Beds. (Thanks goodness for that, too!) Segue to ... a significant lack of space for Very Large Luggage. For your own comfort, small overnight bags are suggested.

Bathrooms are located in the hallway and allocated by room ensuring that your group/family has exlusive use.Bathrobes are provided to protect your modesty.

Bathroom Amenities: Bathrobe, Complimentary Toiletries Including Shampoo, Make-up Mirror, Slippers, Walk-In Shower





3 Shared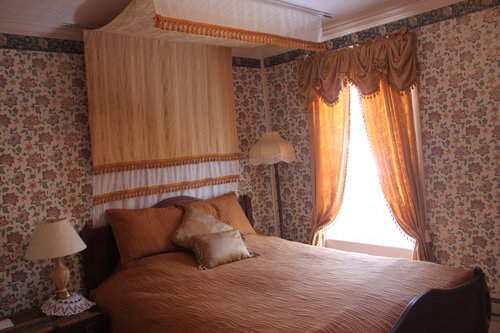 3 Shared

Queen... Room Three is our largest room, by special arrangement we will consider installing a cot for extra persons or children.(charges apply)

$125/night includes Locally roasted Fair Trade Coffee/Tea and Continental Breakfast for two. When booked in combination with either rooms Three, Five or Six one of the Common Baths is exclusively allocated to your party only. Enjoy the privacy and savings when travelling with Friends or Family!
Call us at 1-250-994-2345 for details.

Please note* The St. George, sadly, does not have an elevator, even though they had already been invented. Two sets of seven steps must be scaled to arrive at the second floor rooms. Individuals with mobility concerns may take pause.

When the St. George was renovated in 1996 to once more serve as a place of accommodation for modern day gold panners, room sizes were reduced to allow the installation of restrooms. (Thank goodness for that!)

With a view to the comfort of a good night's sleep, space was sacrificed yet again in favour of Queen Size Beds. (Thanks goodness for that, too!) Segue to ... a significant lack of space for Very Large Luggage. For your own comfort, small overnight bags are suggested.

Bathrooms are located in the hallway and allocated by room ensuring that your group/family has exlusive use.

Bathroom Amenities: Bathrobe, Complimentary Toiletries Including Shampoo, Make-up Mirror, Slippers, Walk-In Shower





4 Ensuite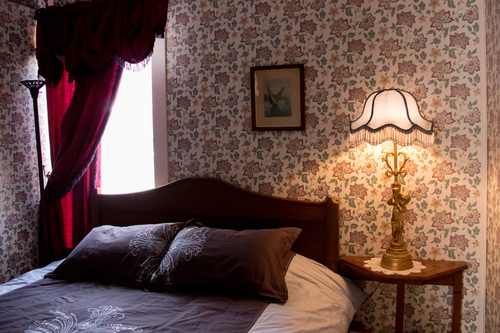 4 Ensuite

Queen... Soft colours and tasteful bed linens enhance a restful atmosphere.

$140/night includes Locally roasted Fair Trade Coffee/Tea and Continental Breakfast.

The St. George, sadly, does not have an elevator, even though they had already been invented. Two sets of seven steps must be scaled to arrive at the second floor rooms. Individuals with mobility concerns may take pause.

When the St. George was renovated in 1996 to once more serve as a place of accommodation for modern day gold panners, room sizes were reduced to allow the installation of restrooms. (Thank goodness for that!)

With a view to the comfort of a good night's sleep, space was sacrificed yet again in favour of Queen Size Beds. (Thanks goodness for that, too!) Segue to ... a severe lack of space for Very Large Luggage. For your own comfort, small overnight bags are suggested.

Bathroom Amenities: Complimentary Toiletries Including Shampoo, Towels Provided, Walk-In Shower





5 Shared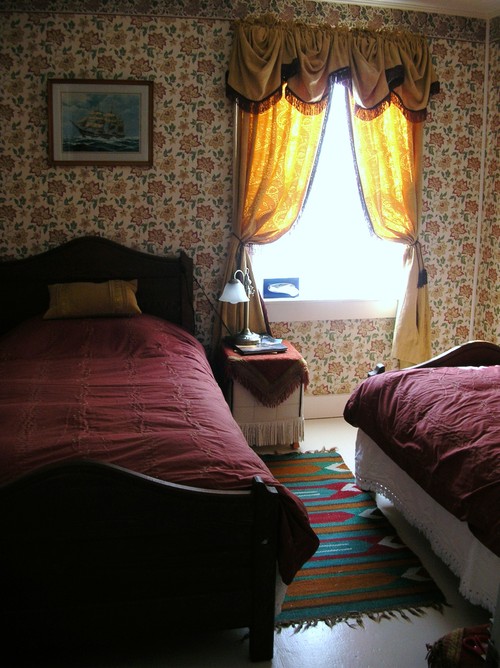 5 Shared

Twin... With two single beds, it's perfect for Single Friends travelling on a budget, or families, as this room shares a Common Bath with one other room only. $125/night includes Locally roasted Fair Trade Coffee/Tea and Continental Breakfast for two.

When booked in combination with either rooms Three, Five or Six one of the Common Baths is exclusively allocated to your party only. Enjoy the privacy and savings when travelling with Friends or Family!
Call us at 1-250-994-2345 for details.

Please note*The St. George, sadly, does not have an elevator, even though they had already been invented. Two sets of seven steps must be scaled to arrive at the second floor rooms. Individuals with mobility concerns may take pause.

When the St. George was renovated in 1996 to once more serve as a place of accommodation for modern day gold panners, room sizes were reduced to allow the installation of restrooms. (Thank goodness for that!)

With a view to the comfort of a good night's sleep, space was sacrificed yet again in favour of Queen Size Beds. (Thanks goodness for that, too!) Segue to ... a significant lack of space for Very Large Luggage. For your own comfort, small overnight bags are suggested.

Bathrooms are located in the hallway and allocated by room ensuring that your group/family has exclusive use.

Bathroom Amenities: Bathrobe, Complimentary Toiletries Including Shampoo, Make-up Mirror, Slippers, Walk-In Shower





6 Shared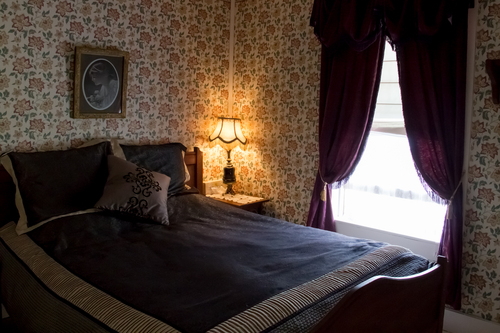 6 Shared

Queen... Located at the back of the hotel and closest to the bathrooms. (Ideal for Seniors)Lie back and fall asleep to the fantastic night-sky views. You can wish upon a zillion stars!

Perfect for Couples on a Budget as this room shares a Common Bath with one other room only. $125/night includes Locally roasted Fair Trade Coffee/Tea and Continental Breakfast for two.

When booked in combination with either rooms Three, Five or Six one of the Common Baths is exclusively allocated to your party only. Enjoy the privacy and savings when travelling with Friends or Family!
Call us at 1-250-994-2345 for details.

Please note* The St. George, sadly, does not have an elevator, even though they had already been invented. Two sets of seven steps must be scaled to arrive at the second floor rooms. Individuals with mobility concerns may take pause.

When the St. George was renovated in 1996 to once more serve as a place of accommodation for modern day gold panners, room sizes were reduced to allow the installation of restrooms. (Thank goodness for that!)

With a view to the comfort of a good night's sleep, space was sacrificed yet again in favor of Queen Size Beds. (Thanks goodness for that, too!) Segue to ... a severe lack of space for Very Large Luggage. For your own comfort, small overnight bags are suggested.

Bathrooms are located in the hallway and allocated by room ensuring that your group/family has exlusive use.

Bathroom Amenities: Bathrobe, Complimentary Toiletries Including Shampoo, Make-up Mirror, Slippers, Walk-In Shower





7 Ensuite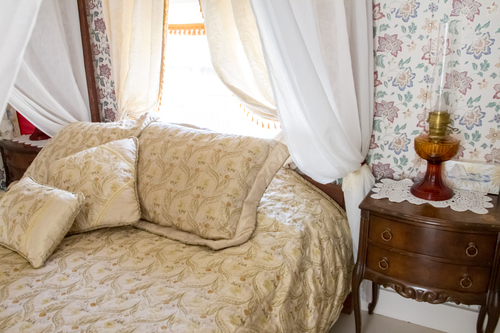 7 Ensuite

Queen... Full Canopied 4-poster bed is ideal for very special occasions.

$140/night includes Locally roasted Fair Trade Coffee/Tea and Continental Breakfast.

The St. George, sadly, does not have an elevator, even though they had already been invented. Two sets of seven steps must be scaled to arrive at the second floor rooms. Individuals with mobility concerns may take pause.

When the St. George was renovated in 1996 to once more serve as a place of accommodation for modern day gold panners, room sizes were reduced to allow the installation of restrooms. (Thank goodness for that!)

With a view to the comfort of a good night's sleep, space was sacrificed yet again in favour of Queen Size Beds. (Thanks goodness for that, too!) Segue to ... a significant lack of space for Very Large Luggage. For your own comfort, small overnight bags are suggested.

Bathroom Amenities: Complimentary Toiletries Including Shampoo, Towels Provided, Walk-In Shower





8 Mountain Thyme Guesthouse in Wells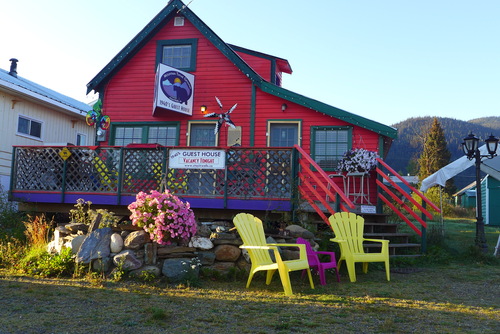 8 Mountain Thyme Guesthouse in Wells

Two Queen Beds and One Pullout Bed... Actually 6 beds, two baths, sleeps up to 8. Year-round. The Mountain Thyme Guesthouse is a 1940's Miner's Cottage, only 8 km from Barkerville in the historic town of Wells.
Unique year-round accommodation alternative to the St. George. Adjacent to Barkerville, Wells has all services, all year.
Contact us for more information, or visit www.stayinwells.ca
Two Bathrooms adjoin each sleeping area. Upstairs bathroom has a soaker tub, downstairs bathroom has a modern shower.





Our Packages
Sorry - there are no packages available at this time.
---
| |
| | |
---
Website Design by GuestServe Inc. Copyright © 2001-2017
GuestServe Inc.
. All rights reserved.
Unless otherwise indicated, all content has been supplied by the manager of the business promoted on this website AND/OR
may contain content that is copyrighted by GuestServe Inc. or purchased for use on this website from a royalty-free image provider.